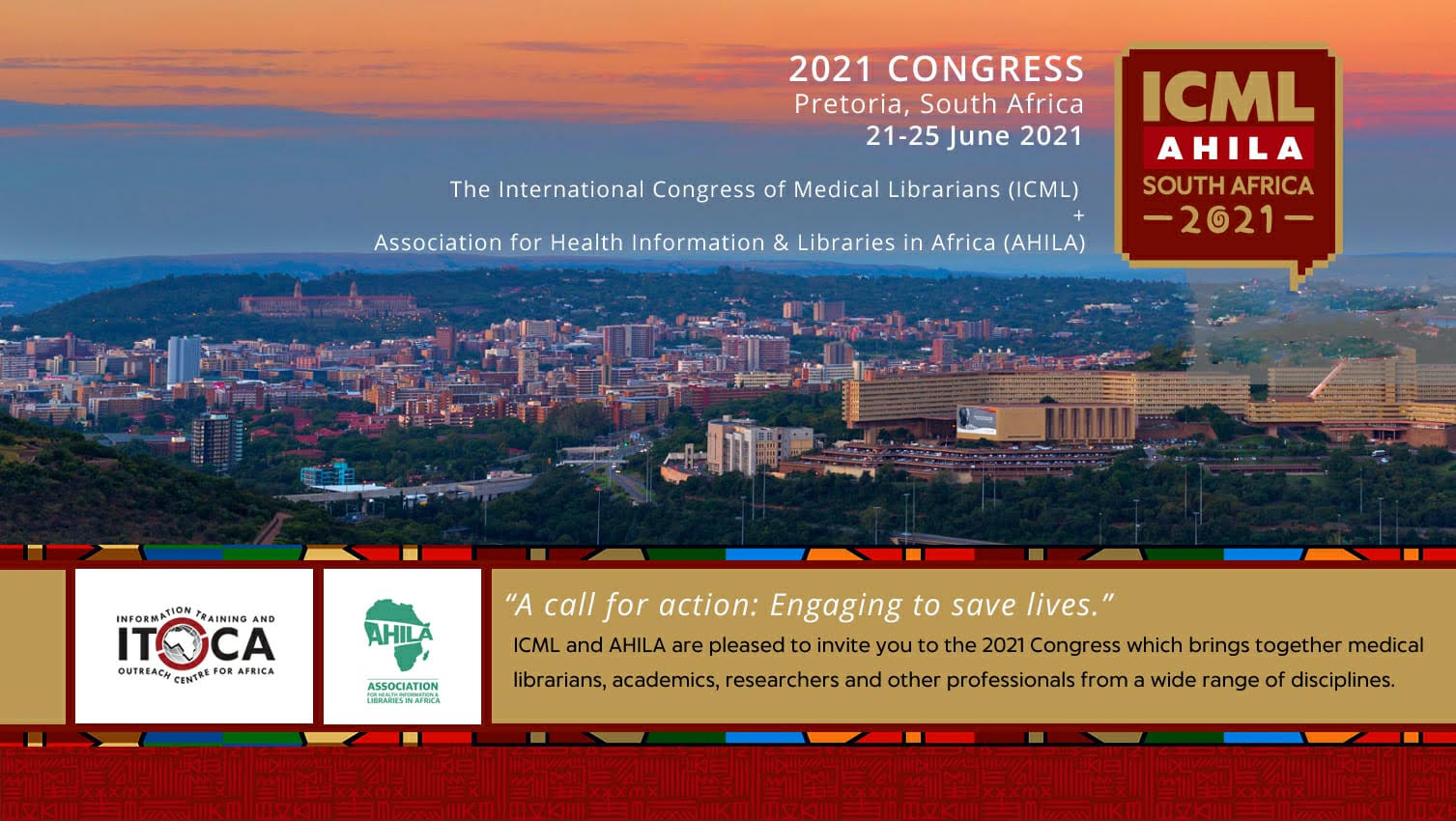 21st Jun 2021

To

25th Jun 2021
ICML AHILA Congress 2021
(304 Views)
Event Serial No.- WLD211740
Website
https://icml2021.org/
Contact Person - Chiedza Manuel
Event inquiry /Organizer email address

-

[email protected]
Deadline for abstracts/proposals: 2020-11-16
Organized by: The International Congress of Medical Librarianship ICML View more Conference
Topic Covered: Health Higher Education , Lifelong Learning , Medicine and Medical Science , Health , Medical ethics , Public Health , Sustainable development , Globalization , Health Disparity , Information science ,
Venue:
Pretoria, Gauteng,
South Africa

About Event

The International Congress of Medical Librarianship ICML and the Association for Health Information and Libraries in Africa AHILA are pleased to invite you to the June 2021 Congress which brings together medical librarians and other health information professionals, academics, researchers, and others from related disciplines. The conference will explore the contributions that medical librarians and other information professionals are making to achieve global health goals by connecting, engaging, and ultimately improving health and saving lives. The ICMLAHILA 2021 Congress theme is "A call for action: Engaging to save lives"with six sub-themes outlined below: 1. Accessibility: providing access to timely, affordable, and reliable health information. 2. Collaboration and Partnerships: forming effective bonds to enable successful implementation. 3. Epidemics and Pandemics: anticipating and responding to health crises. 4. Science- and Evidence-based Practice: incorporating best data and information to achieve improved health. 5. Sustainability: building structure and capacity for the future. 6. Current actions in response to SDGs. Hope to see you there!
For Custom Banner please send mail [email protected] Along with banner image (width 1200px Height 300px) and event serial no.