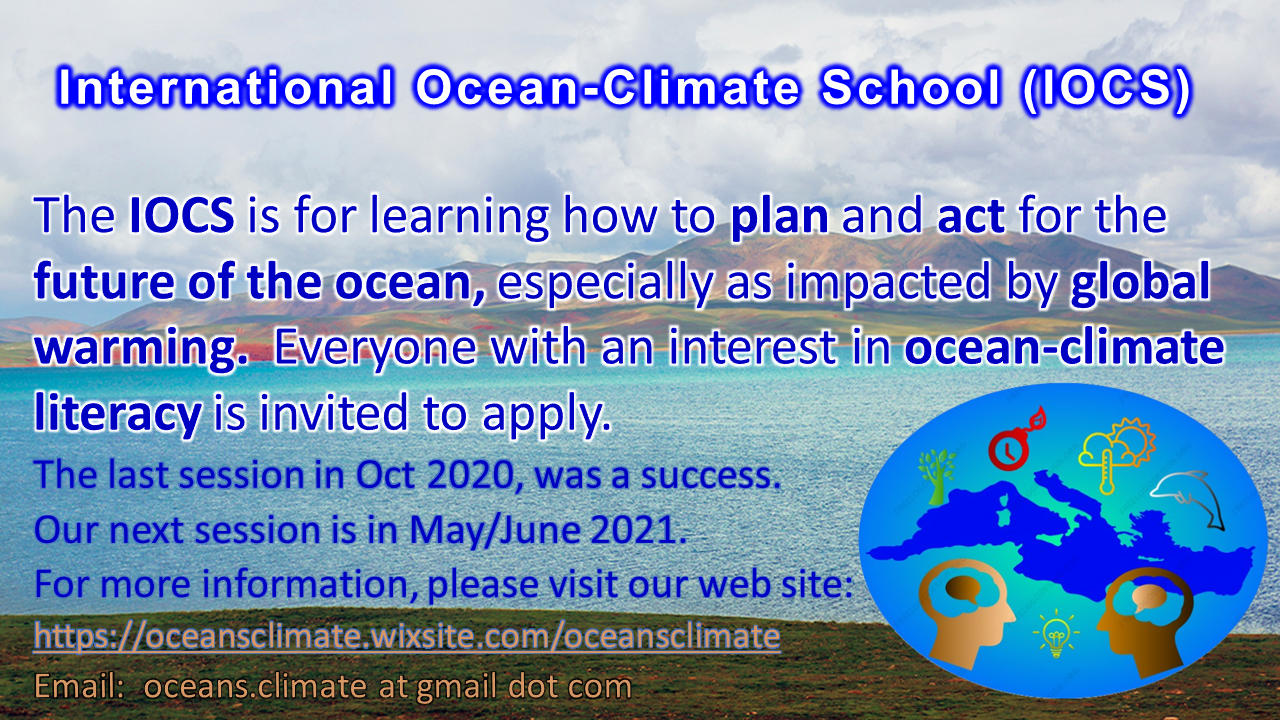 21st May 2021

To

04th Jun 2021
The Trilogy of Ocean, Coast & Climate: The Urgency & Exigency of Literacy
(129 Views)
Event Serial No.- WLD304747
Website
https://oceansclimate.wixsite.com/oceansclimate
Contact Person - David Crookall
Event inquiry /Organizer email address

-

[email protected]
Deadline for abstracts/proposals: 2021-05-16
Organized by: International Ocean-Climate School IOCS View more Conference
Topic Covered: Sustainable development Distance Education , E-learning , Lifelong Learning , Renewable Energy , Food Safety , Identity , Public Policy , Sustainable development , Globalization , Human Rights , Leadership , Poverty , Law of the Sea , Humanitarian Law , Human rights Law , Agriculture , Biodiversity , Ecology , Meteorology , Waste Management , Aquaculture , Biology , Earth Sciences , Environment , Oceanography , Soil , Water , Human Geography , International Relations , Human Geography , Multiculturalism , Multidisciplinary Studies ,
Venue:
Cagnes, French Riviera,
France

About Event

Ocean, coast, climate & geoethics literacy After the successful session in October 2020, our International Ocean-Climate School IOCS will be held on three Fridays, 21 & 28 May & 4 June 2021. It will include some elements of geoethical literacy. The title is: The Trilogy of Ocean, Coast and Climate: The Urgency and Exigency of Literacy Please forward this to your colleagues. Numbers are limited, so we advise early application. For more information, please visit our website: https:oceansclimate.wixsite.comoceansclimate Participant Feedback from previous session: https:oceansclimate.wixsite.comoceansclimateoct-2020 Applications are now open: https:oceansclimate.wixsite.comoceansclimateadmin Please forward this to colleagues. Thank you. The IOCS Team Please follow us here: ​https:twitter.comIOCS_climate https:www.linkedin.comcompanyiocs-climate https:www.facebook.comOceans.Climate https:www.youtube.comchannelUCtyV1e6Us-1enV-5b6xFZ5A
For Custom Banner please send mail [email protected] Along with banner image (width 1200px Height 300px) and event serial no.